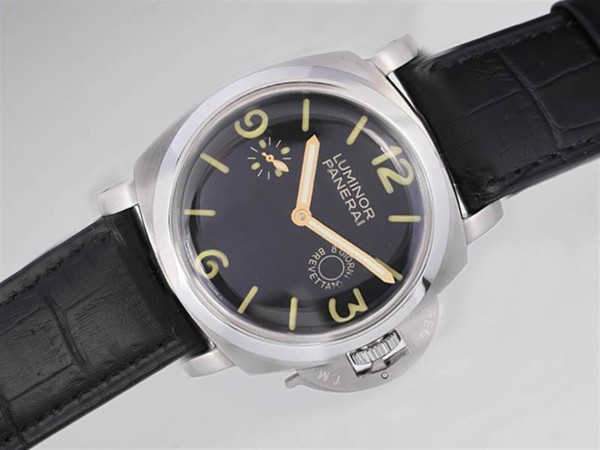 Officinal Panerai launched its Due collection of Luminary models characterizing the lightest last year, and thinnest cases ever provided by the brand, an attempt to attract customers who had firstly treated the military-derived dive replica watches too bulky and heavy. Of course, that was the appeal for some enthusiasts as Panerai's pieces appeal to purists who like the fact that they stay reasonably true to the original tool watches made for Italy's elite underwater commandos. The Luminary Due collection, with cases 40% thinner than the original Luminary 1950 models, is handsome enough however to be an additional asset in the Panerai portfolio rather than a mere dilution of its core values, as evidenced by the four new designs from the Italian-designed, Swiss-made concern that has been gaining ground on its horological rivals. 

The amazing collection by the cheap fake Panerai, the Luminary Due, features four distinguish dials and contains the Luminary 3 Days Titanic in titanium, the Luminary Due 3 Days Oro Rosso in rose gold, the Luminary Due 3 Days Automatic Titanio in titanium, and the Luminary Due 3 Days Automatic Acciai in stainless steel. The 42 mm Luminary 3 Days Titanio is being provided as a completely versatile sports model, benefiting not only from thinner construction but the added lightness of titanium as opposed to stainless steel. The Luminary 3 Days Titanio features a brushed titanium finish with a deep blue dial and matching alligator strap, while the Luminary Due 3 Days Oro Rosso, the most fashion-minded model, comes with a rose gold case, ivory dial with blue numerals, and light blue alligator strap. Both feature the in-house manual wind P.1000 movement with a three-day power reserve which has been skeletonized.
The other two replica watches enlarged in size to 45 mm, and come equipped with the in-house P.4000 automatic calibre movement. The Luminary Due 3 Days Automatic Titanio has a titanium case, rich blue dial and a matching alligator strap. The Luminary Due 3 Days Automatic Acciaio has an AISI 316L stainless steel case, deep anthracite dial and a deep brown alligator strap. Ivory dialed Panerais have never held the same appeal for us, and though the blue numerals are a nice touch it does not specially suit the rose gold case, while the shade of the alligator strap is a bit too light for our taste. Especially given its thinner case this piece might appeal to ladies.